How I Manage Brightly Colored/Bleached Curls (2c/3a)
Andrea.Wilso
Registered Users
Posts: 31
Hi! I'm new to the forums, and was directed here because I have lots of long curly hair and I'm an old hat at taking care of bleached, double-bleached, brightly colored, and deeply dyed hair. I thought I'd share what works for me!
My hair has been so many different colors over the last five years! Ombre purple, ombre brown to gold, chocolate brown, full magenta highlights, and black-blue... until now!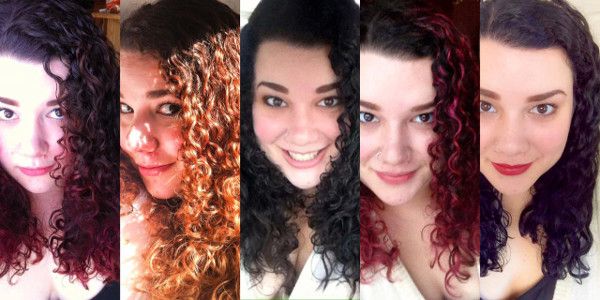 Recently, I decided to finally buckle down and go for my dream hair color: multi-dimensional purple.
Thankfully, I have an exceptional stylist who has been able to safely take my hair through coloring, bleaching, and growing out from chin length in front/2" in back to mid-back length. A good stylist is a curly girl's best friend - especially one who wants to dabble in color!
She was able to give me the hair color of my dreams by first bleaching my hair up to a light golden blonde. She bleached my hair up to about 3" away from the root, and 2/3 of my hair was already bleached once and then colored over dark. Neither of us was sure if the second round of bleaching would take - but she watched it, and it worked! Thankfully, the ends didn't get too frayed and the curl pattern was intact!
Next, she applied permanent dark plum dye to my un-bleached roots, and then began hand-painting on demi-permanent purple tones - indigo, magenta, violet - in large chunks all over my hair. It processed for about 45 minutes.
Since I've had partial/almost full color (including bleaching) before, I had a good idea of how I wanted to take care of it - but I'm also being extra careful to preserve the demi-permanent color.
Happily, I don't shampoo - and haven't since about 2004! That helps preserve the color A LOT!! It also means I don't use silicones or other ingredients that aren't water-soluble, so there's no buildup on the strands of my hair. No buildup means no shampooing means no stripping of good oils or color!
Instead, I cleanse my hair with a cowash once every 3 days. Even though day 3 is usually a braid or bun or pony, not rinsing my hair too often helps preserve color and moisture. I also make sure to deep condition once a week (and leave it on for a good hour or two) with a heavy deep conditioner full of yummy oils! My favorite cowash and deep conditioner right now are both by Briogeo. Plus, I always use WARM water when I rinse my colored hair! Hot water will strip both color and oils from hair way, way faster!! I learned that the hard way when those pink highlights you see up there faded in only a month and a half. :thumbdown: Boo!!
Once my hair is clean, moisturized, and detangled, I apply product. I always apply a curl cream - right now I'm using Re:Coil by AG - and I've been using an oil-heavy pomade on the ends of my hair both for moisture and for some extra hold. Moxie's Bling Pomade is EXCELLENT for this! To finish, I love DevaCurl's Ultra Defining Gel - I get a nice handful, flip my head upside down, and scrunch it from root to tip. Finally, I will sometimes gently twist the curls around my face together so they hold all day.
The most important thing for bleached (or even bleached twice!) hair is to help maintain the structural integrity of the hair strands. Once hair follicles are damaged, it's almost impossible to get them healthy again.
I have heard that Olaplex is an amazing treatment for this - and I may give it a shot, soon! - but for now, I'm relying on MOISTURE, MOISTURE, MOISTURE. Not just on the ends, but on my scalp! Healthy hair starts with a clean, unclogged, stimulated, moisturized scalp. I always massage my scalp with the cleansing conditioner. It's easy to forget that the scalp is skin, and needs to be exfoliated, cleansed, and moisturized just like the skin on your face.
The final way I keep my color - and curls - looking good is by getting those dead, crunchy, velcro-like ends trimmed off. I know from experience that, if I let those dry, damaged ends go for too long, my hair will shatter like brittle pasta and I'll have tiny pieces of hair-ends all over my hands after I style. Ain't no one got time for that. Plus, it keeps the hair strand from splitting up higher and higher if I just clip the damaged part off! Just like a hangnail that will keep ripping until it hits the quick, a damaged end can ruin INCHES of healthy hair if it isn't nipped in the bud.
To summarize, I keep my hair clean without shampoo, and make sure to deep condition regularly. I style with products that have moisturizing, fortifying ingredients, taking special care to apply heavier products on my ends where it needs moisture most! Finally, I always check my ends - are they crunchy and dry? Are they sticking to themselves like velcro? Can I twirl them into a curl - or do they stick out every which way? If they're damaged, it's time to cut. them. OFF.
Anyway! I just wanted to share my five years of trial and error taking care of long, double-bleached, many-colored curly hair maintenance. Coloring hair can be a big step, especially curly hair! The best advice I have for anyone who wants to take the step from at-home box dye to double-process color?
Girl, go to a stylist.
Pop onto Yelp and find a stylist with experience lightening and dyeing hair. They will keep your curls from being damaged beyond repair, and can even recommend ways for you to maintain your new colored locks. They will watch your hair as it processes, and if you have a "YOU IN DANGER, GIRL" moment, they'll save you before all heck breaks loose on your head.
Besides, no one wants to lose their beautiful curls! They take so much work, love, and dedication. This is what works for me and my hair, but yours could be so much different - do what works for you!
So go, have fun, color your hair, and post pics once you have!! ;-)
2c/3a - M - iii - mid-back length - med. porosity - protein sensitive
Bleached and colored ~2x a year, every year

Routine every 3 days:
No-Poo for 10 years and counting!: Briogeo Be Gentle, Be Kind Avocado and Quinoa Cowash
Deep Conditioner: Brieogeo Don't Despair, Repair!
Styling: 1st - AG Re:Coil, 2nd - Moxie Bling Pomade, 3rd - DevaCurl Ultra Hold Gel
Air-dry only, pineapple overnight
Leave a Comment