Jeepy's CG and grey hair progress. Updated 9-2018!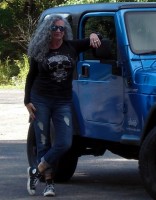 jeepcurlygurl
Registered Users, Curl Ambassador
Posts: 20,731
Curl Virtuoso
I kept my hair pics on a free online site for many years so they could be shared here with my NC folks but they no longer offer it for free. So I thought I would just make a thread here, which makes it easy to share with you all and easy for me to keep track of my own progress.
Here it is 2005-2006, when I first gave up shampoo and also started going grey. 
--I'm located in Western PA.   --I found NC in late 2004, CG since February 2005, joined the forums in May 2005, started going grey in late 2005.   --My hair is 3B with some 3A, currently at mid back length when dry,  texture-medium/fine, porosity-top is low, middle is medium, ends are porous, elasticity-normal.   --My long time favorite products are Suave & VO5 conditioners, LA Looks Sport Gel, coconut oil, honey, vinegar.   
--My CG and grey hair progress -  
http://www.naturallycurly.com/curltalk/going-gray/179328-jeepys-grey-hair-progress.html   
--My article at NaturallyCurly about going grey - 
https://www.naturallycurly.com/curlreading/color/how-i-went-completely-gray-and-loved-it
Leave a Comment