Anyone else having trouble with the clock?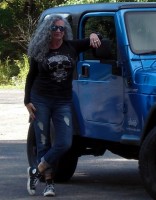 jeepcurlygurl
Posts: 20,724
Registered Users, Curl Ambassador
Curl Virtuoso
At the bottom of all the pages it has the correct time, but on the threads themselves it lists incorrect times (an hour off). If I go into my edit page the time is correct (Eastern time, DST turned off). ?
--I'm located in Western PA. --I found NC in late 2004, CG since February 2005, joined the forums in May 2005, started going grey in late 2005. --My hair is 3B with some 3A, currently at mid back length when dry, texture-medium/fine, porosity-top is low, middle is medium, ends are porous, elasticity-normal. --My long time favorite products are Suave & VO5 conditioners, LA Looks Sport Gel, coconut oil, honey, vinegar.
--My CG and grey hair progress -
http://www.naturallycurly.com/curltalk/going-gray/179328-jeepys-grey-hair-progress.html
--My article at NaturallyCurly about going grey -
https://www.naturallycurly.com/curlreading/color/how-i-went-completely-gray-and-loved-it
Leave a Comment