Sometimes we inspire and influence people and don't even know it!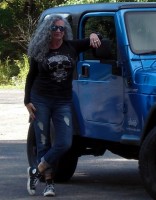 jeepcurlygurl
Registered Users, Curl Ambassador
Posts: 20,731
Curl Virtuoso
Every year there is an Italian Festival on my street. We went Saturday and were just sitting down to eat when this woman came up to me. She looked a few years younger than me and I've seen her around and vaguely know her husband but have never met her before. She had thick long curly hair that was about 4 inches of grey and the rest reddish brown.
She said "I just have to tell you that I saw you here last year and I loved your hair so much that you inspired me to let my hair go grey". Awww! So we chatted about our curly hair for awhile and like me she cuts her own hair because of too many disasters.
It made my day! : )
--I'm located in Western PA.   --I found NC in late 2004, CG since February 2005, joined the forums in May 2005, started going grey in late 2005.   --My hair is 3B with some 3A, currently at mid back length when dry,  texture-medium/fine, porosity-top is low, middle is medium, ends are porous, elasticity-normal.   --My long time favorite products are Suave & VO5 conditioners, LA Looks Sport Gel, coconut oil, honey, vinegar.   
--My CG and grey hair progress -  
http://www.naturallycurly.com/curltalk/going-gray/179328-jeepys-grey-hair-progress.html   
--My article at NaturallyCurly about going grey - 
https://www.naturallycurly.com/curlreading/color/how-i-went-completely-gray-and-loved-it
Leave a Comment