Giving CG Method a try!
Antilles
Registered Users
Posts: 6
So I discovered the CG method a couple weeks ago, and wow, what an education, I had no idea curly hair needed such different care. No wonder my hair is always such a pain in the you know what..... I've tried so many different products, and while it usually looks ok for part of the day while it's drying, it then turns into a frizzy mess. By the time I get home from work, it goes in a pony tail because it just looks awful.
So I'm definitely going to give the curly girl method a try and see what happens!
I'm not really sure what my hair type is.....2C or maybe 3A? Here's a pic from a couple years ago, while it was only about 3/4 dry and still curly, shortly after this it went totally puffball frizz..... (pardon the pirate costume, I couldn't find another sort of closeup of my hair right off hand.....lol)
https://www.facebook.com/photo.php?fbid=436072546468931&l=d95b7d1b01
My hair always used to be sort of wavy, but over the last ten years, it's definitely changed and really wants to curl....
Got all excited about the CG method when I first discovered it, ran out and got sulfate free shampoo and conditioner and got started..... Then I discovered the no "cones" part.....and everything sulfate free I had bought had cones in it. :confused5: Oops. So that stuff went out to the barn to restock my supply of shampoo and conditioner for my horses, and I went shopping again.
So last Wednesday I started over again and washed good with my old sulfate shampoo to clean all the cones out.....
Unfortunately, I do have to wash my hair pretty much daily, because I have horses, and well, after spending time in the barn with my girls.....my hair usually smells like horse.... lol! So the no poo idea kinda freaked me out, but so far co washing seems to do just fine cleaning that barn smell out. lol! I swear my hair absorbs smells something awful!
I also color my hair. I have it professionally colored once every 8 weeks. I know that is probably bad, but I LOVE being a redhead and refuse to go back to my dirty dishwater blonde/brown if at all possible.... I always said I would never color my hair, so kind of a funny story how I ended up being a redhead:
https://www.facebook.com/photo.php?fbid=448370891905763&l=2c6d19bea8
So here's what I ended up with so far for the "no cones" routine....
Organix macadamia oil hydrating shampoo
L`Oreal Paris EverCurl Hydracharge Cleansing Conditioner
Tresemme Naturals Nourishing Moisture Conditioner
Kinky Curly Knot Today
And after digging through the stash of hair products I've bought over the last few years, I pulled out these three that seem to be CG approved (I think) to play around and experiment with.....
Herbal Essences Totally Twisted Curl Define and Hold Creme
Garnier Fructis Curl Scrunch Gel
Pantene Curly Hair Series Curl Defining Mousse
And I have long sleeve t-shirts to try plopping. And I had some left over cotton t-shirt material from a costume I made recently, so today I made myself a little cotton towel for scrunching the water out of my hair.
http://img.photobucket.com/albums/v355/cope2392/Picture002_zpsa6b3dc3d.jpg
So I used the Organix on Wednesday and again yesterday, because I put too much of something on it on Friday and it felt so gross, I had to shampoo! lol! But hopefully I can get away with using the Organix once a week, but we'll see. I will say I have already noticed I huge difference in my oily scalp since I first attempted the CG method (before I discovered the "no cones" part).
So here's my hair today.... This morning I co washed with the L'Oreal, conditioned with the Tressemme, rinsed with cold water. With hair still soaking wet, applied a little Kinky Curly, a little Totally Twisted, a fair amount of gel. Combed with wide tooth comb. Then scrunched, scrunched, scrunched. Then scrunched out excess water with my new cotton towel. Then put it up in a plop. Left the plop in about 20 minutes, then took it down, didn't touch it and let it air dry. Here it is about 3/4 of the way dry. Not too bad. One side looks better than the other, and I see some frizz starting, but I know it will take time....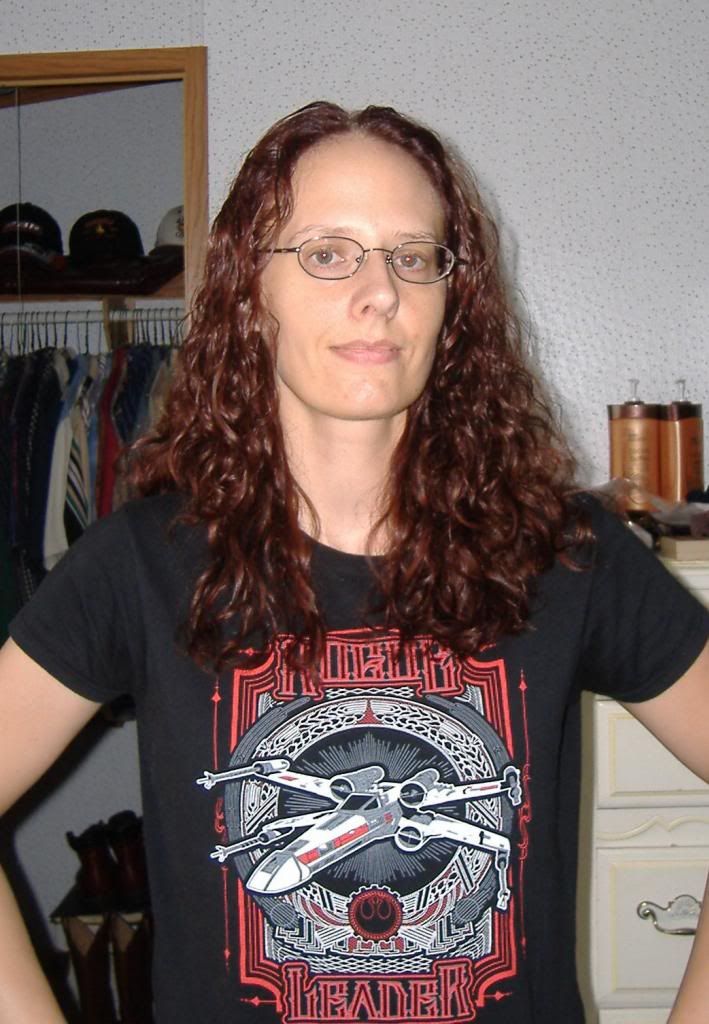 Unfortunately, this is how it looked after going out to dinner with my husband, getting blasted by the AC in the truck on the way there and back, and stopping to take care of my horses in nearly 90 degrees with 80% humidity...... Some parts going flat, other parts going crazy curly, and hello frizz..... I have a lot of experimenting to do with products..... Ok, so I guess it doesn't look nearly as bad in the picture as it does in the mirror.... *shrugs*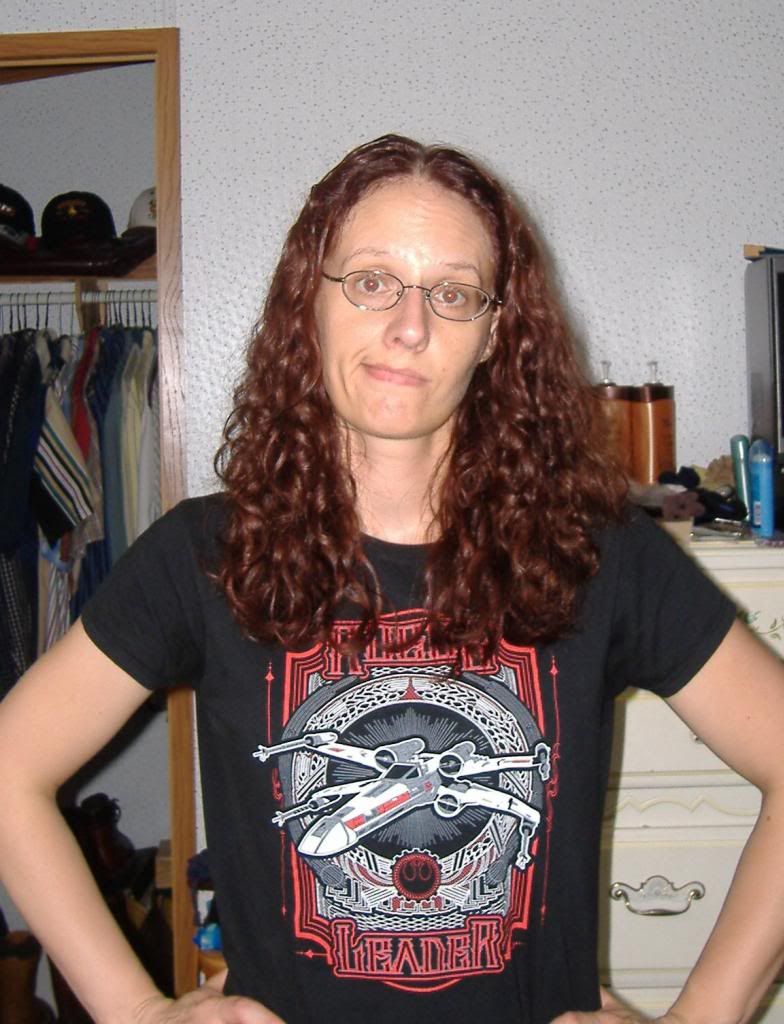 Any suggestions, hints, or tips would be greatly appreciated! I think I need a leave in conditioner. I wasn't sure if the Tressemme would work very well as a leave in, or if I should find a different actual leave in conditioner. I was toying with the idea of trying the coconut oil treatment, since I have a big jar of it that I use for baking and the bottom half of my hair does feel pretty dry.....
Hmmm.....and I seem to have written a book again.....sorry!!!
Leave a Comment