CurlTalk
Curlyman82 Reviews Macadamia Deep Repair Masque

CurlyMan82
Posts: 219
Registered Users
I do reviews on another site, but I figured people on here would be just as interested to hear about these products. Be sure to let me know what you think of this review. There are but a few curly-haired guys who review hair products on youtube and even fewer are heterosexual :laughing7:
What you all think will really help me decide whether I'm going to be doing that or not. Well, here's the review.
It's been a little while since I reviewed a product, but out of all the products I own, this is the most worthy of a review.
I first found out about this product when someone told me about it back in January.
I started researching it my self and found that people all over the internet were praising it on hair sites, review sites and Youtube. What you'll find below are pages with many reviews of this product, including two pages with hundreds of reviews and an average 4-5 star rating.
Macadamia Natural Oil Deep Repair Masque 8.5 oz Ulta.com - Cosmetics, Fragrance, Salon and Beauty Gifts
[url]
http://www.amazon.co...s/dp/B002WTC37A[/url]
[url]
http://www.drugstore...asque/qxp264244[/url]
[url]
http://www.makeupall...air_Mask/0/Hair[/url]
The biggest problem people seem to have with this product is the price. At most stores that sell this, it will run you about $30. There are a few noteworthy things about this problem. First of all, the majority of the people are willing to re-buy this for the $30 that they originally bought it for. Second of all, this product can also be found on ebay or Amazon for a fraction of the rice. There is also a 3.3 ounce travel bottle that you can buy for $15
The only other issue I saw was the size. For $30, you get an 8 oz. container. At first, I thought this was going to be a problem too. On the back of the can, it is suggested that you use it no more than 1-2 times a week. I have just used it for the 3rd time (twice last week, and once this week), and the container looks looks like I barely used any. It's has a creamy texture that is slightly thicker than a lotion. Here is a picture I found:
I take two small dabs at a time, and I can easily see this lasting for months.
Now to discuss my experience with this. The directions on the back say to wash your hair, apply the product, let it sit for about 10 minutes and then wash it out. I followed these directions exactly. I take two dabs, like I said earlier and rub it through my hands, then run my hands through my hair. When I went to go wash it out, after the water hit my hair, my hair had gotten noticeably softer. I was very surprised by this, because my hair was pretty soft already, but somehow it had gotten softer. A lot of people mention that they like the smell of it. I did like the smell as well. If you know what macadamia nuts smell like, that is exactly what this makes your hair smell like. Some people have mentioned that this does something for frizz, but it really did nothing in respect to frizz for me. However, this product did do two other very noticeable things for me.
In terms of what I do with my hair from day-to-day, I have gotten into the habit of slicking it backwards.
In order to do that, I put on some moisturizer, comb my hair backwards to straighten it, brush it backwards and wear a rag. I would have to use a brush because the comb would straighten it for a moment, but then it would keep curling up in most spots. After I used this, I no longer needed the brush because it stayed straight. Some people mentioned that it made their hair easier to comb through. I never really had this problem, but this product somehow made it behave better. I wanted to straighten it, so it stayed straight
I used a moisturizer and a comb to do this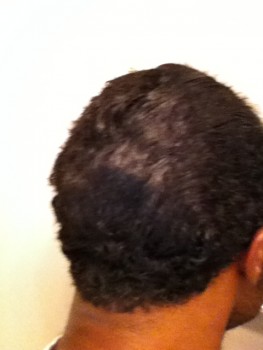 The other thing for me that was very noteworthy was that, I had started using a certain moisturizing product a while ago. Since then, I had used it many times, but for some reason, I could not seem to make my hair look as good as it looked the first time I used the product. After I started using this deep conditioner, I used the product again and my hair looked like it looked the very first time I used it.
I couldn't believe it.
I didn't understand exactly what was happening until I thought about the name of the product. To remind you, it's called the "Macadamia Oil
Deep Repair Masque
". In fact, a lot of reviewers talk about how this product repaired their hair from damage that it picked up from using curling irons, blow-driers and processes like bleaching. I did none of that, but this product still had a profound effect. Somehow, this product restores your hair back to it's original state. I have used many products, but I have never seen anything like this. I see why people are praising it and calling it a "miracle product" of sorts. I haven't really done much to damage my hair. I used pomade only, which I washed out immediately, and haven't used a blow drier in about 10 years. Yet somehow, this product made a noticeable difference and restored things. For having the ability to do that, I think that it is very worthy of having the words "deep repair" in it's name. I know how overpriced things sometimes be, but when I run out of this product in a few months, I will be happy to pay $30 to repurchase it. I was perfectly prepared to say that something this expensive really isn't worth it, but truthfully, this product is worth it 100%.
I have to give this product a 10 out of 10 and recommend it highly. If you're looking for a game-changing product, this is it.
You can find it at various beauty supply stores such as Sally's or certain convenient stores. I was able to find the entire line of Macadamia Oil products in CVS. Also, like I mentioned earlier in the review, it can be found online at sites like Amazon or Ebay for a reduced price.
Leave a Comment