CurlTalk
Done fighting it!

CarolinaCurlz
Posts: 30
Registered Users
I wish I had found this forum two months ago!

I have 3A naturally curly hair that I have fought all my life. Two months ago I relaxed my hair with a chemical relaxer for African American hair. It totally ruined my hair. I cut off about 6 inches but now I have to wait for the rest to grow out before I can get my curls back. Wow, never thought I would be wishing for curls! I have decided to end the lifelong battle with frizz and bad hair days.

I live in the South and even on a "low" humidity day my hair is a mess. My hair always looks like a perm that is growing out. It doesn't curl nicely and in the front I look like I have grown horns out of my forehead.

Even though I won't have my curls back for a while I decided to start the Curly Girl treatment now to work on getting my hair healthy. I have been reading this forum for a few days now (hours on end!) and ordered the Devacurl no poo, the Con Wash, Light gel and Mister Right spray. I also bought the Catwalk Curls Rock.

My daughter is 17 and has very thick wavy hair. She always had thin straight hair until puberty kicked in. She deals with frizz too, so she is going to start on the CG method too.
2 b/c at the moment, 3a when not relaxed
Medium Texture
Normal Porosity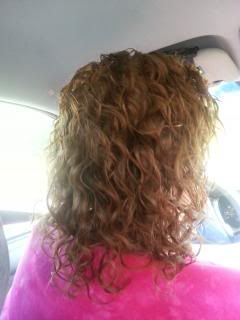 Leave a Comment