We'd like your help getting CurlTalk back on its feet!

By participating on CurlTalk — posting, commenting, liking — in the next few weeks, you will automatically be entered to win amazing prizes.

Our latest winner is Savagegirl!

CurlyCanadian, Bomega and EllaJ have also won wonderful prizes! Will you be next? Post, like, comment, GET ACTIVE and help us get CurlTalk ENERGIZED again!

Learn more!
LASIK, anyone? Help!

lcl0706
Posts: 959
Registered Users
I had lasik Thursday and my 1 day post op check yesterday. Everything looked and felt good, I see great for being one day out, just my right eye was a little scratched. The dr said to really push my lubricating eye drops in that eye especially & that it should only improve from here. Well right now, my eyes are burning so bad it's woken me up twice. I can't keep them either shut or open for any length of time. I slept better 5 hrs post op than I am tonight. All I can think about is the dr saying it should only get better, never worse. This is definitely worse and idk what to do. I sleep with a shield so I can't imagine I damaged them overnight. It's 5:30 am on a Saturday here, boyfriend went to work at 4am, I surely couldn't drive anywhere & what eye dr would be open anyways?? I just want to claw my eyes out & I can't touch them!
:wave:
fine, thin, normal/(low?) porosity. Mod-CG. Usually I can't co-wash more than 1x a week, & sometimes I have to use T-Gel in rotation due to scalp issues.
Co-wash:
VO5 Volumizing
Poo:
Giovanni 50:50
RO:
TN, Nexxus Youth Renewal, Alba Coconut
LI:
KCKT
PT:
gelatin PT, ION EC
Stylers:
Giovanni mousse, TIGI Curls Rock amplifier (a-cone), Curls Rock Strong Hold Mousse
Gels:
SCC spray gel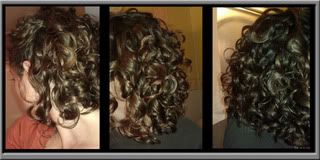 Leave a Comment