L'Oreal EverCurl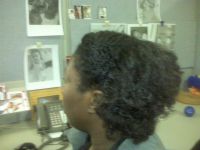 Cerendipity
Posts: 5,091
Registered Users
Curl Novice
Any tightly or kinky girls like this??
I tried the cleansing conditioner last night, my hair was neither bad or good, it was just ok... I wasn't wowed.
I didnt use a leave in conditioner and went straight for the sculpt and curl cream gel. My curls were nicely formed but also surrounded by a halo of frizz. I also used half the bottle for my whole head , which is a downside.
I found them on sale at Walgreens for $5.99 which isnt too bad. I will be trying the cleansing conditioner out again tonight. Its a snow storm and I have nothing else to do when I get off lol
EverCurl Sculpt and Hold Cream Gel - Hydrates Curls - L'Oreal Paris
EverCurl Hydracharge Cleansing Conditioner - Smooth Curls - L'Oreal Paris
Leave a Comment