Aloe Vera Juice/Gel Lovers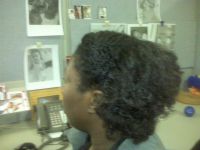 Cerendipity
Registered Users
Posts: 5,091
Curl Novice
How do you use aloe vera? How long have you used it? Are you protein sensitive?

Everything has aloe vera in it it seems, My hair has a sensitivity to it just as it does to protein. I've been using it (in a spritz )since I colored my hair in July and it seems my hair is very wiry now. Usually I try to use products with aloe vera where it is low in the list but I'm trying out a theory and want to see where it goes in the next 4 months.

It isnt breaking because I'm sealing my hair like crazy. I also havent had to do heavy protein since I'm upped my aloe vera use as well. Its been an interesting 2 months.
Leave a Comment