CurlTalk
1 Month CG Method!! Recommendations Please
tambalina
Posts: 64
Registered Users
So I have been experimenting with the Curly Girl Method for about a month now. While I am still working on my routine, I am getting more spirals in my hair than I ever thought was possible! They are very big and loose, but there nonetheless:
This was where I started: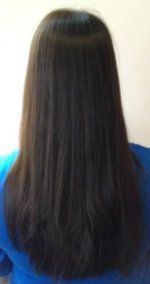 It is a vast improvement!! VERY happy with my results! I have added a few new products into my arsenal: GVP Conditioning Balm (LOVE, LOVE, LOVE!), Kinky Curly Knot Today, Kinky Curling Curling Custard, Giovanni Direct Leave-In Conditioner and Giovanni More Body Hair Thickener.

I am not a fan of the Giovanni products in general, but I think that is mostly due to the fact that I am not using the correct methods/amount of product that is optimal for my hair. The Kinky Curly products are fun so far and I have found that a little goes a long way in my hair. I comb product through my wet hair, flip my hair and scrunch in gel until I see uniform clumps. Sometimes my plop is for 30 minutes, sometimes I plop overnight, but my hair is still soaking wet in the morning. Waves wilt after 3 - 4 hours. :confused1:

I still have no clue what my hairtype is, though. Right now, I think I am a 1c/2a, but I think I may have greater curling potential. Any recommendations (products/technique/styling tools) that will help me motivate MORE curl out of my waves?
[SIGPIC][/SIGPIC]
CG Journey Start Date: 08.21.12 Now modified CG
F/M texture, Med Density, Low/Normal Porosity, Hennindigo

Current Routine (Still working out the kinks):
CO-Wash
: IEC, VO5VMT, TNRV
Rinse Out
: YTCarrots, DLOO, Renpure Red, GVPCB
LI
: YTCarrots, CCC
Styler
: AG:RC, KCCC, LALNC, FSG
Leave a Comment