CurlTalk
I've had it with my body, and I don't know what's going on...

lcl0706
Posts: 959
Registered Users
Okay this will probably get long winded but I'm just having a really down day and need to spill.
Ever since I passed out 3 weeks ago which I posted about, I've been completely miserable. For a long time I've always felt like something is "off" - for 15 years probably, going back to high school even, but never been able to put my finger on it. So everything I've been experiencing this past month I've had before, for a long time, but just not like this!
I can't sleep. Like, physically cannot fall asleep for hours. It takes me so long to fall asleep I get about 3-4 hrs of broken sleep per weeknight. Once I fall asleep, I'm mostly okay so the weekends I can sleep in I'm better, but the work week is hell. I tried and failed again to nap on my lunch break today. My legs literally feel like they're going to buckle underneath me & I'm all shaky but for the life of me cannot fall asleep. I swear i feel like I'm driving around drunk!
Everything either itches or tingles or crawls or feels like pinpricks poking me all over my body. I told my doctor once years ago I suspected I had restless leg syndrome and he looked at me like I'd grown 3 heads. My skin will just crawl all day while I'm at my desk and it gets 10x worse at night. Like random places like my left pinkie or big toe or knee or ear or cheek. I've always had dry skin but no amount of lotion is helping this. It just hops around and lately I can't even stand my clothes touching me or anything at night touching me, not even the sheet I'm laying on and I want so bad to cuddle with SO but I can't stand his arms on me
I've tried OTC sleep aids, every once in a while they'll work but last night I took 3 PM pills and all I got was a headache. Rx sleep aids freak me out because I don't want to be that chick who eats in her sleep or goes driving around while sleeping
all those horror side effects you hear on the news. Once I get to sleep I get so little sleep I feel like I'm in a drug haze the next day. I'm so sensitive to EVERYTHING. If the fan SO sleeps with is blowing a single arm hair around, I can feel it and it will keep me up. Or a single strand of hair in my face. And then you know how it is when you crave sleep so badly and you can't get it, you get frustrated and upset, and that makes it worse, and I just wind up getting out of bed and in tears in the living room.
So naturally, I'm freakin tired ALL THE TIME. And I'm still having dizzy/lightheaded spells, which I can't tell if it's caused by the fatigue or what. I have heart palpitations where I feel my chest fluttering and tighten up a bit and sometimes I almost feel like I can't get a deep breath but it passes so quickly and never hurts. And I've had those since college, and they come and go and they'll stick around daily for a week or a month or 2 or 4, and then dissapear for a week or a month or a year and there's no pattern or rhyme or reason to it. Nothing makes them worse, nothing makes them better. I had an EKG in college that was normal but it's really hard to align your randomly occuring symptoms with a doctor's visit ya know. I've also mentioned this to my current doctor and he just was like "ya whatever, that happens sometimes."
Okay then. I've had my blood drawn several times over the years, checking iron and thyroid and blood sugar levels and I had it done again after I passed out, and everything is always normal. Which is great, except I have NO CLUE what is causing this.
And especially lately, eating anything is making me sick to my stomach. Which is so random and seems completely unrelated to any other unrelated problem I'm having!
I live in a hole of a town of about 600 and our local doctors are the joke of the town and I just don't know where to go anymore
But as I'm sitting here typing this, my legs are twitching and crawling and I swear someone is poking my heels and my ribs with needles and my nose itches and my scalp is crawling and my lips itch, I wish I was exaggerating but I want to get up and run around the room - I just have a really hard time believing this is how the general public lives every day!
:wave:
fine, thin, normal/(low?) porosity. Mod-CG. Usually I can't co-wash more than 1x a week, & sometimes I have to use T-Gel in rotation due to scalp issues.
Co-wash:
VO5 Volumizing
Poo:
Giovanni 50:50
RO:
TN, Nexxus Youth Renewal, Alba Coconut
LI:
KCKT
PT:
gelatin PT, ION EC
Stylers:
Giovanni mousse, TIGI Curls Rock amplifier (a-cone), Curls Rock Strong Hold Mousse
Gels:
SCC spray gel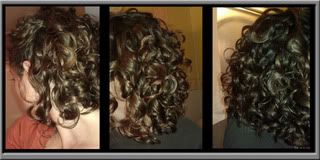 Leave a Comment