We'd like your help getting CurlTalk back on its feet!

By participating on CurlTalk — posting, commenting, liking — in the next few weeks, you will automatically be entered to win amazing prizes.

Our latest winner is Savagegirl!

CurlyCanadian, Bomega and EllaJ have also won wonderful prizes! Will you be next? Post, like, comment, GET ACTIVE and help us get CurlTalk ENERGIZED again!

Learn more!
Raawwwwrrr, just need to rant!

lcl0706
Posts: 959
Registered Users
On rant.

I'm just having a no good very bad hair day and kind of up in arms over what to do with it. This humidity here is just killer lately and no products have been working so I've just been going naked (HAIR, not clothes hehehe) and it's just getting me down. On top of blow-drying and flat-ironing it for 15 years straight I also did at least 3 or 4 of the chemical straightening treatments (either in the salon or the cheap at home kits that smell so bad your eyes burn and never got it straight anyways) and I'd forgotten how damaged it really is still because I had a great winter routine going, 3 products in one combo that worked daily and hid the damage well. Well one year mostly CG/mod CG, very little flat-ironing and NO flat-ironing in several months and it's still a mess when naked. I'm not blind, I look at my before's and after's and see a HUGE change for the better (when I actually style it and/or use product and if I take the pictures in the AM before the weather kills it) but it grows SO SLOW, I get it trimmed today for the first time since March and it's grown maybe an inch in those 4 months.

My winter HG's aren't working in summer, nothing is working, it's a frizzball by the end of the day whether I use gel/mousse/protein/spray gel/glycerin/no glycerin/nothing and it's too damn hot and humid to work on my hair for 30 minutes when I know it's going to melt as soon as I step outside anyways. Some frizz I've come to accept as inevitable but by the end of every day it's in a ponytail. So I've been all "eff it, who cares" and with nothing in it, it's just a shocker to me. Some days are better than others, I have about an inch of very curly roots that dissolve into a mess of undefined fluff on my canopy but wrap into big sausage spirals on my underlayers. I have anywhere from 2b waves to 3b ringlets crammed on this head. I hesitate to really diffuse it till dry anymore because that's heat, and all I want is this heat damage and relaxer grown out and with this angled bob, where I haven't cut as much (the front layers and canopy) all I can see is that damage and today it's just getting me down.

Had a half decent day yesterday with KCKT and Curls Rock amplifier scrunched and air dried then low-pooed this morning with GTTTT because I don't trust the cyclomethicone in the amplifier, I don't use GTTTT much because it feels pretty harsh to me but it was all I had that had coco-betaine in it. Followed that up with ION Effective Care which is my go-to, year round HG rinse out that is ALWAYS reliable to leave my hair feeling great and even THAT didn't work this morning. It felt sticky and gross and gummy and sigh. A crappy hair day from the start and I even don't know what caused it to do that.

Off rant.
:wave:
fine, thin, normal/(low?) porosity. Mod-CG. Usually I can't co-wash more than 1x a week, & sometimes I have to use T-Gel in rotation due to scalp issues.
Co-wash:
VO5 Volumizing
Poo:
Giovanni 50:50
RO:
TN, Nexxus Youth Renewal, Alba Coconut
LI:
KCKT
PT:
gelatin PT, ION EC
Stylers:
Giovanni mousse, TIGI Curls Rock amplifier (a-cone), Curls Rock Strong Hold Mousse
Gels:
SCC spray gel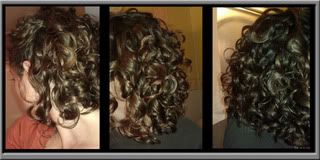 Leave a Comment