We'd like your help getting CurlTalk back on its feet!

By participating on CurlTalk — posting, commenting, liking — in the next few weeks, you will automatically be entered to win amazing prizes.

Our latest winner is Savagegirl!

CurlyCanadian, Bomega and EllaJ have also won wonderful prizes! Will you be next? Post, like, comment, GET ACTIVE and help us get CurlTalk ENERGIZED again!

Learn more!
Color Me...

LaCurlyMariposa
Posts: 36
Registered Users
Curl Neophyte
Hello Ladies!
I don't post very often and I mostly lurk, but I've decided to make myself known! I've recently decided that I want to color my hair. (I'm aware that there is a section dedicated to coloring, but that section is dry
) I've recently finished my transition to natural hair (started in 2010) and I have a decent length to work with. I just wanted to make things a little more fun! I know what I want to do, just not how to do it.
I don't want to color my whole head. I want the hair in back, the hair on the lower layer (so it's underneath, if that makes sense), and the bang area to be colored. I want to go lighter to maybe honey blonde or slightly lighter than that. I want to do it myself instead of going to a salon to save money (and salons make me nervous because you never know what you're gonna get with people you don't know!). I'm not sure if I should go semi-permanent or permanent.
My hair is sandy-brown naturally and I have never colored my hair before. My hair has normal porosity as well.
What kind of box-kits do you guys recommend? What tips should I keep in mind? Anything else I should be aware of? I apologize for the lengthy post, but I just need to be steered in the right direction. Like I said earlier, I know what I want to do just not how to do it.
Thanks in advance ladies!
Last Relaxer: Aug 2010
BC: April 2012
Staple Products
:
(Anything Shea Moisture)
African Black Soap Deep Cleansing Shampoo,

Organix Coconut Milk

and

Cherry Blossom conditioners

,

Shea Moisture Curl and Style Milk/ Curl Enhancing Smoothie/ Curling Souffle

.
:blob7:
I
t's fine. It's divine. It's all mine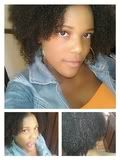 Leave a Comment