CurlTalk
A question about damage, and a question about clumps

lcl0706
Posts: 959
Registered Users
How long does it take to repair damage? I know everyone's different, but I've been at this almost a year and my front layers are still a mess. When naked and air dried, they dry almost straight. Basically, from my crown forward it's like I have different hair. It air dries in 15 minutes flat and dries to a fuzzy, undefined mess. Meanwhile, my back and especially my underlayers are spirals when soaking wet, take forever to air dry, and dry into nice clumpy curls. It's like split personality hair
These front/side layers I can coax curl out of with product and diffusing, but they took the most abuse from my flat-ironing days and still take the most abuse from diffusing because they require so much effort. So I'm probably getting nowhere, even with the new growth I have, because it still takes the heat, literally.
And for my second, unrelated question - can clumps weigh fine, thin hair down? I remember the few times I diffused and wore it curly years ago, I knew nothing about clumping, raked in whatever cone filled product I was using, and would end up with curly-cues all over (albeit thin, plastic-y ones, but curlier). No clumps, but curls and volume. Now I try to encourage some clumps, and end up with a less-curly look overall (except my pretty underlayer nobody ever sees) plus patches of scalp showing (thin density) and maybe it's a result of damage and weakened curl pattern, but I wondered if the clumps themselves had anything to do with it. Tomorrow I'll use my go-to products but probably try to break the clumps up more and see what happens. I notice my smaller clumped sections have a tighter curl pattern. I don't want stringlets or tupperhair, but I guess a part of me still misses my inner little girl curlies and wishes I could get them back. I read the science of clumps post linked in the sticky with useful links and started wondering if maybe it's just not in my curl pattern & hair texture's nature to be forced into clumps.
That is all! Thanks in advance!
:wave:
fine, thin, normal/(low?) porosity. Mod-CG. Usually I can't co-wash more than 1x a week, & sometimes I have to use T-Gel in rotation due to scalp issues.
Co-wash:
VO5 Volumizing
Poo:
Giovanni 50:50
RO:
TN, Nexxus Youth Renewal, Alba Coconut
LI:
KCKT
PT:
gelatin PT, ION EC
Stylers:
Giovanni mousse, TIGI Curls Rock amplifier (a-cone), Curls Rock Strong Hold Mousse
Gels:
SCC spray gel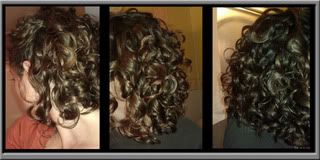 Leave a Comment