CurlTalk
clueless new kid syndrome (Pics)
smileykid
Posts: 3
Registered Users
Hiya!
I'm new to this website and to CG. Well, actually I haven't even began CG. I'm still in the learning-about-my-hair phase. I find this bit kind of tricky because I'm clueless about hair and beauty stuff in general. This is what I think my hair is:
2a: I guess *shrugs* My hair is the waviest after a shower and air dry. It's not completely wavy, however. Some strands are straightish. If I brush my hair (which I never do), the waves will become much less defined.
Low Porosity: My hair stayed on top of the water for an entire day and night.
Low Density: My ponytail was only 1 inch thick. I guess this doesn't surprise me since my hair sheds A LOT.
Medium Texture?: Yea, so texture is what confuses me the most. I held a strand of hair to the lights and was like "well, I can see it *shrug*.
Below is what my hair looked like in April 2006. I feel like my hair was healthier then. My waves had more definition, my hair had some shine, and my hair was less frizzy. This was back when I could afford to buy Paul Mitchell Shampoo and Biolage Conditioning Balm.
Imma real smileykid
, huh? So, after our economy collapsed I had to give up on the salon products and started bumming off my sister's drugstore stuff (Garnier Fructis shampoo and Herbal Essences conditioner. This bottom pic is what my hair looked like in June 2011 (blah and meh!).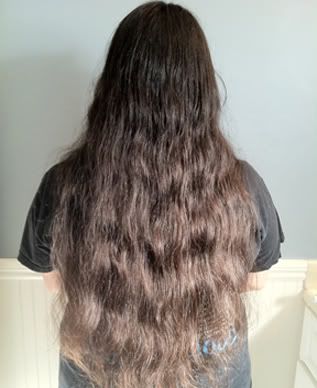 Here is a picture to show you my frizzy hair. It's especially noticeable around my head. On this day, I straightened my hair but it doesn't always take. Some waves just want to stick around. I also put some Jojoba oil in my hair hoping it would smooth it out but all it did was make it greasy.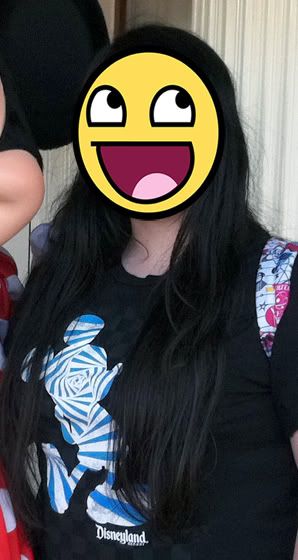 Can you tell that I'm a Disney kid?
This is what my hair looks like today. I actually took this yesterday after my hair had air dried. You can see how confused my hair is.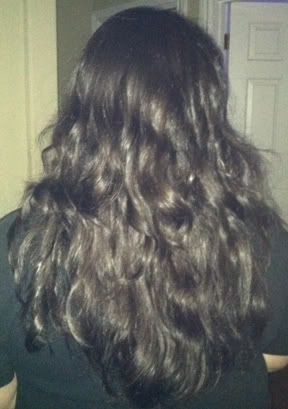 My hair routine is pretty simple. I'm low maintenance (aka lazy).
LUSH New! (shampoo bar) only on the top of my head. Rinse.
Condition with Herbal Essences Color Me Happy only on the length of my hair (my hair isn't color treated btw). Rinse.
I step out of the shower without putting a towel on my head.
When my hair has dried about 30%, I run a wide tooth comb through it. If I'm not going anywhere, I just leave it at that. If I go out I, I might put some argon oil in it (doesn't do much) or use Curl Keeper (this actually helps with frizz and defines my waves)
Here's other random stuff about my hair:
It's very frizzy. Since my hair sheds a lot, I have a lot of little baby hairs that stick out. It sucks...
I have bra strap length hair but I want it to be waist length.
My hairstylist says my hair is not dry but I feel that it is very dull.
I've never had what I consider to be "healthy hair."
I get crazy buildup.
My hair takes forever to dry. It takes over 2 hours to air dry when my hair is down and over 9 hours when my hair is up.
I get dry scalp from time to time but especially in the colder months.
When I was middle school, my hair wasn't wavy.
I can curl my hair and it will stay as long as I use a strong hair spray.
Yikes, this post is long. Let me wrap things up. I plan on trying a modified CG. I don't think my scalp will like straight up CG. I just ordered both of Jessicurl's cleansers to see which one will work best for me and I plan on trying the generic Biolage Conditioning Balm. I'm guilty of shampooing every time I shower so I plan on reducing it to two times a week. I'll also try some ACV rinses. I'm going to add in a leave-in conditioner. I just need to find the right one for my hair. I'll also try that plopping thing.
Okay, okay, I'm done now. I will very much appreciate it if you can give me some advice.
Thanks for reading!
Leave a Comment