Hydroquenchsystems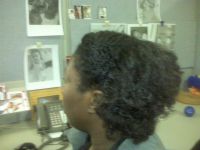 Cerendipity
Registered Users
Posts: 5,091
Curl Novice
Now I was minding my bidness and saw someone purchase a couple of these items from this line, I wont say any names though so I went ahead and purchased some myself.
I am highly intrigued by the Greaseless Moisture and Puttyful The Anti Gel.
I purchased those and a Go deep Deep Conditioner. I will be trying the Greaseless moisture and deep conditioner out tonight because I'm getting a weave tomorrow.
I am not urging anyone to go out and try them but there is a 25% off sale going on Etsy right now and my items arrived fairly quick.
Hydro Quench Systems by hydroquenchsystems on Etsy
I will attach pictures later in the evening.
Go Deep Deep Conditioner
Greaseless Moisture

Puttyful The Anti Gel
She also sent me a sample of the
Organic Coconut Lime Oil
Leave a Comment