Another new guide!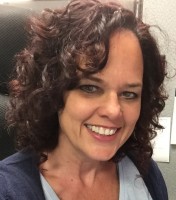 Gretchen
Administrator
Posts: 10,840
Moderators
Curl Virtuoso
Please also welcome JuanaGuide!
Here's a little info about her:
I am a single mother of a 20 year old daughter. I have been natural for a little over a year, after transitioning for 8 mos. I did the "Big Chop" March 29th, 2011. My daughter is transitioning, but will not do the "BC", her hair type 3b/4a. My hair type is 4a/4b, medium density, normal porosity, medium/coarse texture, normal elasticity. My decision to become natural was out of necessity, there is no turning back. I am a Investigation Discovery Channel "addict". I have a BA in Psychology with a minor in Economics. I love to read true crime stories, biographies, and books on self improvement. I also enjoy traveling and spending time with family and friends. I don't meet a stranger, as I am a rather open person. I live in sunny central Florida, on the Gulf, just west of Tampa. I am very excited to be a part of this community and I am in love with my natural hair!!!
Thanks, Juana, for giving your time to CurlTalk; we all appreciate it.

Gretchen
NaturallyCurly.com co-founder
3A

You are beautiful!