New guide!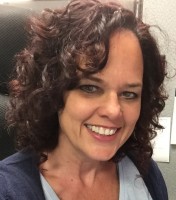 Gretchen
Administrator
Posts: 10,840
Moderators
Curl Virtuoso
Please welcome NalliaGuide to the moderating ranks here at CurlTalk!
She's a great addition to the team; here's some info about her, in case you don't know her from her posts:
My name is Nallia, but I also answer to Athena. I joined NaturallyCurly March 2009 because I was desperate for help with my hair. I had been using flat irons for a long time and I had so much damage my hair would hardly curl and was always frizzy, no matter what I tried. Discovering the Curly Girl way changed everything! The before and after pictures convinced me to join the site and give it a try. I have been CG since I joined and my 3b curls have been happy ever since. I long ago found what works for my hair, but I am still here almost every day because I came to love the forums and the people on them.

I live in CO and love it here, though I get homesick for the city of my heart, NY, at times. I am married to a wonderful man and stay home with our two adorable children. I enjoy volunteering at school, reading, skiing, cooking and baking, photography, and making digital scrap pages and cards/invitations. Sometimes I am silly, sometimes I may be a little snarky or cranky, but I will always do my best to help and support everyone as much as I can. Please feel free to ask me for help anytime, either in a thread or through PMs.
We hope to have announcements about additional volunteer helpers soon, so keep an eye out and make them feel welcome.

Gretchen
NaturallyCurly.com co-founder
3A

You are beautiful!