We'd like your help getting CurlTalk back on its feet!

By participating on CurlTalk — posting, commenting, liking — in the next few weeks, you will automatically be entered to win amazing prizes.

Our latest winner is Savagegirl!

CurlyCanadian, Bomega and EllaJ have also won wonderful prizes! Will you be next? Post, like, comment, GET ACTIVE and help us get CurlTalk ENERGIZED again!

Learn more!
This Hairdresser done said...

LaCurlyMariposa
Posts: 36
Registered Users
A friend (we'll call her Dee) and I was visiting another friend's home (We'll call this friend Sara) for the weekend for a break from campus. Dee and Sara wanted to go see Sara's personal stylist so they both could get their hair colored. I didn't want to participate because A) I don't know this lady and her capabilities and
I'm a broke college student. I was also kind of nervous to go because the last time I saw ANY salon was about 2 years ago when I started to transition from relaxed to natural. Both my friends have relaxers and I'm mostly natural now with 2inches of relaxed ends left. (Cutting it in April!) I was expecting there to be a comment on my hair at some point.
When Dee sat in the chair, Sassy the Hairdresser looked over at me and said, "Sara here told me that you were goin natural. Why'd you decide to do that?" Here I thought it was going to be an innocent conversation. So I basically told her I didn't like the process, it wasn't for me, and I wanted to try something different. Then she kind of interrupts me and goes, "A lot of people who go natural believe it's healthier when it's not. It's actually dirtier. Natural hair is dirtier because the dirt gets caught easily in the hair"
I was dumbfounded and confused. I responded, "I wash my hair like twice a week, what do you mean it's dirtier?" Then she goes on to say something like, "The way natural hair is - like there are holes in the shaft where dirt can get caught and make the hair brittle and break off." I definitely gave her the side eye and ignored any other "explanation" she offered after that. All I could think was
oh lawd, this heffa done told me my hair is dirty
. This doesn't make any sense to me -- it's crazy right?
Sara and Dee looked at me expectantly because I'm known to shoot off at the mouth, but I decided against it because if she already believes that nonsense and she's a *hopefully* licensed cosmetologist, there is nothing I can say to make her change her mind. She's just gonna keep thinking she's right because she went to school for it or something.
Where does this "natural hair = dirty" nonsense come from?
Last Relaxer: Aug 2010
BC: April 2012
Staple Products
:
(Anything Shea Moisture)
African Black Soap Deep Cleansing Shampoo,

Organix Coconut Milk

and

Cherry Blossom conditioners

,

Shea Moisture Curl and Style Milk/ Curl Enhancing Smoothie/ Curling Souffle

.
:blob7:
I
t's fine. It's divine. It's all mine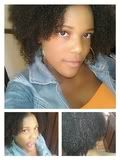 Leave a Comment