We'd like your help getting CurlTalk back on its feet!

By participating on CurlTalk — posting, commenting, liking — in the next few weeks, you will automatically be entered to win amazing prizes.

Our latest winner is Savagegirl!

CurlyCanadian, Bomega and EllaJ have also won wonderful prizes! Will you be next? Post, like, comment, GET ACTIVE and help us get CurlTalk ENERGIZED again!

Learn more!
Probably another long post, with pics

lcl0706
Posts: 959
Registered Users
Since I keep complaining about my spiderhairs, I figured I'd attach pics of both the wet stray hairs/"frizz" and the same spiderhairs/frizz once it's dry. I'll preface this by saying I know my hair could look a LOT worse and I've made a ton of progress and I feel bad complaining, but I'd really love to find a way to tame these.
Pics are from Saturday - I low-pooed with YTC, RO was YTC. Tried SM Curling Soufflee - just barely coated my hands with a pea size bit of it and raked through, combed to distribute, and scrunched the ends with a pea size bit of it (afraid of overdoing the oil), then topped with HETT mousse and SCC. LOVED the dry results - I got really good wave and curl enhancement from the SM and it even held up to the high winds. But you can clearly see in my wet and dry pics the misbehaving random hairs.
Monday I did the same routine at my boyfriend's house, and I believe I finally know what hard water is.
He lives 20 miles NW of me in a town of 600 people, they're not on our city water and I wouldn't be surprised if their source is someone's backyard creek. Mine at home is not soft per say, but his shower wall and sink and all his glass dishes have a film of limescale and calcium buildup (gross in it's own right, as I'm buying a big jug of CLR this weekend) and Monday, my hair REFUSED to cooperate. Would not curl at all, had very limp waves, and a very disgusting "feel" to it... so that brings me to my 2nd part of the question - my water at home is not nearly as hard as I thought it was. Do you think my hair could've had such a bad reaction from his water in one day? I'm moving in with him this summer and honestly, until Monday had no idea his water sucked the life out of my hair so bad because I've always slept as late as possible and rocked 2nd day ponytails when staying with him before. So... HELP. How do I combat this??
This morning I showered at home and did the same routine yet again and I have great hair. So I'm suspecting it was the water.
:wave:
fine, thin, normal/(low?) porosity. Mod-CG. Usually I can't co-wash more than 1x a week, & sometimes I have to use T-Gel in rotation due to scalp issues.
Co-wash:
VO5 Volumizing
Poo:
Giovanni 50:50
RO:
TN, Nexxus Youth Renewal, Alba Coconut
LI:
KCKT
PT:
gelatin PT, ION EC
Stylers:
Giovanni mousse, TIGI Curls Rock amplifier (a-cone), Curls Rock Strong Hold Mousse
Gels:
SCC spray gel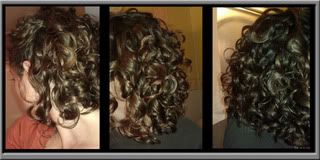 Leave a Comment