Clothing catalogs of any kind!!

lcl0706
Registered Users
Posts: 959
Grr! Flipped through a BodyC catalog that came along with a Victoria's Secret catalog yesterday. Cute clothes, but every.single.model - long hair down to her boobs at least, and stick straight. All parted down the middle, all some shade between platinum and light brown (save for the one dark skinned model they managed to include) - they all looked like clones of each other.

WTF? Where is the short hair? Where are the curlies? Is that seriously what's considered the sexiest? Not to knock my long haired straightie (usually flat ironed) friends but come on. How boring!! Mix it up people.
:wave:
fine, thin, normal/(low?) porosity. Mod-CG. Usually I can't co-wash more than 1x a week, & sometimes I have to use T-Gel in rotation due to scalp issues.
Co-wash:
VO5 Volumizing
Poo:
Giovanni 50:50
RO:
TN, Nexxus Youth Renewal, Alba Coconut
LI:
KCKT
PT:
gelatin PT, ION EC
Stylers:
Giovanni mousse, TIGI Curls Rock amplifier (a-cone), Curls Rock Strong Hold Mousse
Gels:
SCC spray gel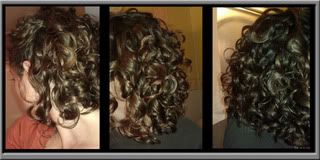 Leave a Comment