We'd like your help getting CurlTalk back on its feet!

By participating on CurlTalk — posting, commenting, liking — in the next few weeks, you will automatically be entered to win amazing prizes.

Our latest winner is Savagegirl!

CurlyCanadian, Bomega and EllaJ have also won wonderful prizes! Will you be next? Post, like, comment, GET ACTIVE and help us get CurlTalk ENERGIZED again!

Learn more!
First post: need advice for 3yo's hair

MomToMaya
Posts: 2
Registered Users
Hi there,
I have a daughter with curly hair (3b, I think - but I'm just now learning all this) - and I have straight hair, so I'm feeling a little lost. I just got the book "Curly Girl" but it doesn't really address these issues I'm having. And I did some searches on this forum and either got no relevant results - or an overwhelming number that really didn't answer my questions.
Anyway, here are some pictures so you get an idea what I'm working with: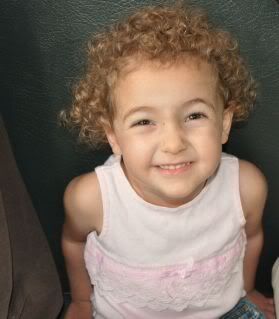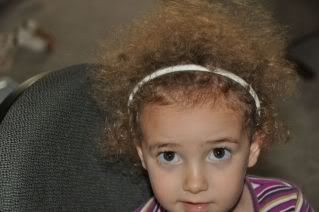 I've recently started using only conditioner (only rarely shampoo - I use Alba Organics, no sulfates) for Maya and I've always left in a little bit of conditioner in order to tame/control her curls. Even before Curly Girl, I was only detangling her hair while wet with conditioner or detangler. I'm lucky in that she has no problem with me washing/conditioning her hair, and doesn't mind having her hair combed out. So no battles there. Her hair is super-fine, and it doesn't seem very thick (although I might be mistaken). It's definitely too short for braids (for my skill level anyway) but I do put her hair in pigtails occasionally. Her curls are beautiful right after her hair dries (most like the first and second pictures) but within a few hours, the back and sides start to look frizzy.
So my first issue is: even with the leave-in conditioner, her curls lose their shape and turn into a big halo of frizz (as you can see in the pictures, it can be mild or quite crazy). But she's 3, so most of this is due to her rolling around, playing, and riding in the car (her head against the car seat). Other than carrying around a spray bottle all the time, are there any tricks to keeping a toddler's hair looking a little less frizzy?
Second, my daughter loves to wear hats, and now that winter is here, her fleece and wool hats are wreaking havoc on her hair. No matter what I do, her hair looks like the last picture as soon as she takes her hat off. And when we're out and about, the hat goes on, off, on, off ... you get the idea. Wearing hats isn't optional when we're outside in the winter, and I really don't want to mess around with putting a scarf under her hat for a 3yo. Any advice on dealing with the whole hat thing?
I will say that I don't mind her having slightly messy hair when we go out - she's only 3, and she gets tons of compliments anyway. But the level of frizziness is getting out of control - her hair looks matted and sticks out in all directions. And every once in a while, I'd like to get her hair into the pretty soft ringlets and KEEP it that way.
Last: I have only recently realized that I can't let just anyone trim her hair for the first time. Her hair is still pretty short but I think she might benefit from a little trim - and I've heard that it helps the hair grow longer - ??? Any words of advice on finding someone to cut a toddler's very curly hair? I'm not confident enough to do it myself, although if I could see someone do it correctly, I might be able to learn.
Sorry to bombard you all with so many questions in my very first post but I figured that this would be the ideal place to look for answers
Leave a Comment