You would think I had learned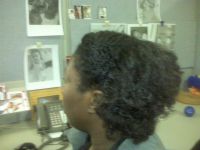 Cerendipity
Registered Users
Posts: 5,091
Curl Novice
:angry2: So ok I decided to give Afroveda another chance.
I ordered on Sept 2, 2011 and didnt read the email correct.
I ordered a Curl Define and a Pur Whipped Gelly, thinking that I would receive 50% off of both items. I dont know why I was thinking the Gelly was a butter. Anyhoo. My order added up to be $31.50. I was hot that I was paying $ 10.25 for some shipping but sucked it up.
Well when I realized I wasnt getting the 50% off the Gelly, I sent an email asking her to take the Gelly off.
I received an email from her stating
Per your request, the PUR Whipped Hair Gelly has been removed from your order, leaving only the Curl Define to be shipped. Your PayPal account is being refunded the amount of $13.50 for the PUR Whipped Gelly. The shipping fee did not change once we removed the item, so I am not sure what the refund for that will be until the label is created. Any shipping refund that may be due will be properly credited to your PayPal account.

Thank you!!
Ok so you see where she said the shipping fee didnt change so ok. That was Sept 12. My order tracking information didnt update. So Sept 19th she replies and says my order shipped and shes sorry my refund didnt go thru , so same day I get the refund of the difference in product but not for the shipping. Ok
so on the 23rd still no response. Ok so my package arrives and the label says shipping was $ 5.34. Umm where the hell is my refund. Yeah, yeahits only $4 and some change but this whole email back and forth for my money is just pissing me off.:angry2:
I sent another reply today which willb e my third reply WITHout any response. Didnt she hire some help with her newfound prices?
Leave a Comment