Help! Need Style Change (going shorter)

zoobteach
Posts: 5
Registered Users
I've posted a few times here, but lurk frequently! I've been doing a modified CG since April 2010. I'm happy with how my hair has been over the last year. I've been able to grow it out to almost BSL. But I'm getting tired of it now because I have constant tangles and it is severely damaged (thanks to be a little highlight happy over the last year).
I think I'm a 2C with a few 3b's here and there. My hair is extremely thick. It is very coarse also. I've been going gray since my early 20s so it has been color treated for years (the highlighting is a more recent thing and has been awful).
As I'm getting ready to go back to school (teacher), I'm wanting a change. I want to go short
er
. I'm nervous to do it since it has been longish for the past year.
I'm torn between just cutting a bit off (don't really want to do that), going with an inverted/stacked bob, or going extremely short-- pixie style.
My biggest fear is that my face is round and chubby. I don't want to do anything that is going to enhance both of those factors (clearly I understand that I can't hide my face chub with any haircut, lol!).
Any suggestions on styles that might look good on me? I've been combing through short styles, but so many aren't curly! I don't want to do any more flat ironing ever-- I want to be natural all the time, work, play, going out. I'm so tired of wearing my hair in a ponytail or clip (I live in FL so long thick hair is really no fun in the summer!).
Also, any suggestions on color?? I've been every "natural" color under the rainbow. I don't think I've ever picked one that actually looked good on me.
Here is a picture from May 2011 (my hair is just a bit longer now and much lighter and more damaged):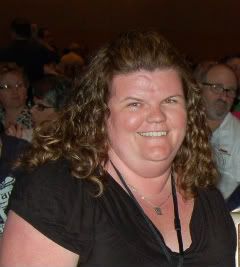 I'd love to hear any thoughts, opinions or experiences you all have had with making "the cut"!
Leave a Comment