LA LOOKS gels comparison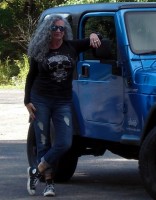 jeepcurlygurl
Registered Users, Curl Ambassador
Posts: 20,729
Curl Virtuoso
[FONT=comic sans ms,sans-serif]I've been using LA Looks Sport Gel for many years and love it. But since Big Lots had huge 30 oz bottle of some of their other gels for only $2.50, I decided to try them just to see how they differ.
I believe all of the varieties contain some form of protein, are CG, and are alcohol free (but ingredients are listed below for you to check out).
Each gel has a slightly different scent. I like the smell of the Sport gel the best and Power Spikes gel the least, but none of them linger.
As far as hold, I didn't notice a huge difference. Oddly, of the 4 that I tried, the Curls gel was my least favorite. It made my hair soft but for me that means the hold is not strong so my hair was frizzier and poofier.
None of the gels were flaky, didn't feel producty.
[/FONT][FONT=comic sans ms,sans-serif]The Sport Gel is still my favorite. It does everything I want so I hope they never stop making it! : ) [/FONT]
[FONT=comic sans ms,sans-serif]
SPORT - BLUE, HOLD #10+
[/FONT]
Aqua/Water/Eau (Water), PVP, Sorbitol, Carbomer, Keratin Amino Acid, Panthenyl Ethyl Ether, Palmitoyl Oligopeptide, Glyceryl Polymethacrylate, Propylene Glycol, Glycerin, Oleth 20, Rahnella Soy Protein Ferment, Amino Methyl Propanol, PEG 8, Tetrasodium EDTA, Benzophenone 4, Methylparaben, Diazolidinyl Urea, Methylchloroisothiazolinone, Methylisothiazolinone, Parfum (Fragrance), Butylphenyl Methlyproprional, Hydroxyisohexl 3 Cyclohexene Carboxaldehyde, Limonene, Hexylcinnamal, Linalool, Benzyl Salicylate, Citronellol, Ext D&C Violet 2 (CI 60730) (Ext Violet 2), FD&C Blue 1 (CI 42090) (Blue 1)
[FONT=comic sans ms,sans-serif]
CURLS - TURQUOISE , HOLD #8
[/FONT]
water, pvp, sorbitol, carbomer, hydroxypropylcellulose, polyquaternium-7, propylene glycol, fragrance, panthenyl ethyl ether, glycerin, keratin amino acids, palmitoyl oligopeptide, chitosan (and) glycosaminoglycans (mdi complex), oleth-20, cocodimonium hydroxypropyl hydrolyzed hair keratin, glyceryl polymethacrylate, rahnella/soy protein ferment, peg-8, aminomethyl propanol, glycolic acid, potassium sorbate, methylparaben, tetrasodium edta, diazolidinyl urea, methylchloroisothiazolinone, methylisothiazolinone, benzophenone-4, blue 1, yellow 5.
[FONT=comic sans ms,sans-serif]
DURAHOLD - ORANGE , HOLD #10+
[/FONT]
AQUA (WATER), PVP, VP/VA COPOLYMER, CARBOMER, CLYCERIN, KERATIN AMINO ACIDS, PANTHENYL ETHYL ETHER, PROPYLENE GLYCOL, GLY0ERYL POLYMETHACRYLATE, PALMITOYL OLIGOPEPTIDE, RAHNELLA/SOY PROTEIN FERMENT, AMINOMETHYL PROPANOL, PEG-40 HYDROGENATED CASTOR OIL, PPG-5 CETETH-20, PEG-8, DISODIUM EDTA, BENZOPHENONE-4, METHYLPARABEN, METHYLCHLOROISOTHIAZOLINONE, METHYLISOTHIAZOLINONE, PARFUM (FRAGRANCE) BENZYL BENZOATE, BENZYL SALICYLATE, LIMONENE, LINALOOL, HEXYL CINNAMAL, CI 15985 (YELLOW 6), CI 16035 (RED 40).
[FONT=comic sans ms,sans-serif]
POWER SPIKES - GREEN, HOLD #12
[/FONT]
Aqua (Water), PVP, Sorbitol, Carbomer, Panthenyl Ethyl Ether, Keratin Amino Acids, PEG-40 Hydrogenated Castor Oil, PPG-5-Ceteth-20, Aminomethyl Propanol, Propylene Glycol, Disodium EDTA, Benzophenone-4, DMDM Hydantoin, Methylparaben, Parfum (Fragrance), Benzyl Benzoate, Benzyl Salicylate, Limonene, Linalool, Hexyl Cinnamal, CI 19140 (Yellow 5), CI 61570 (Green 5).
[FONT=comic sans ms,sans-serif]
WET LOOK - CLEAR, HOLD #10 I didn't try this one because I don't like the wet look. It usually means stringy hair for me and is the result of lots of glycerin (note how high it is on the ingredients list). My hair isn't keen on too much glycerin and I don't like the producty feel of it. And I seriously doubt that this has #10 hold with all that glycerin.
[/FONT]
Aqua/Water/Eau (Water), Glycerin, VP/VA Copolymer, PVP, PEG 40 Hydrogenated Castor Oil, Keratin Amino Acid, Panthenyl Ethyl Ether, Carbomer, PPG 5 Ceteth 20, Amino Methyl Propanol, Propylene Glycol, Palmitoyl Oligopeptide, Rahnella Soy Protein Ferment, Glyceryl Polymethacrylate, PEG 8, Disodium EDTA, Benzophenone 4, Methylparaben, Methylchloroisothiazolinone, Parfum (Fragrance), Butylphenyl Methlyproprional, Hydroxyisohexl 3 Cyclohexene Carboxaldehyde, Limonene, Hexylcinnamal, Linalool, Benzyl Salicylate, Citronellol
--I'm located in Western PA.   --I found NC in late 2004, CG since February 2005, joined the forums in May 2005, started going grey in late 2005.   --My hair is 3B with some 3A, currently at mid back length when dry,  texture-medium/fine, porosity-top is low, middle is medium, ends are porous, elasticity-normal.   --My long time favorite products are Suave & VO5 conditioners, LA Looks Sport Gel, coconut oil, honey, vinegar.   
--My CG and grey hair progress -  
http://www.naturallycurly.com/curltalk/going-gray/179328-jeepys-grey-hair-progress.html   
--My article at NaturallyCurly about going grey - 
https://www.naturallycurly.com/curlreading/color/how-i-went-completely-gray-and-loved-it
Leave a Comment