CurlTalk
New CG (I've lurked for quite awhile though! Pic Heavy)
LoversLullaby
Posts: 19
Registered Users
Hello! I had gone CG in the past (I don't know why I stopped though, I had great hair while I did it!) and then forgot all about it till finding my Curly Girl book in a drawer. My routine is in my signature, and even after going CG for 3 days I can tell a difference!
Before:
After (note that this is second day hair, the first day even looks better but I didn't take pictures):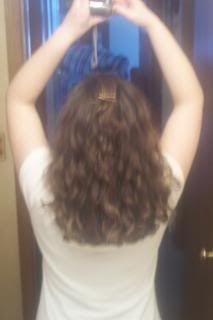 (ignore the white blob!)
My routine is in my signature, any suggestions are welcome.
Hope to meet all of you!
[sigpic][/sigpic]
Modified CG! (silicones in my shampoo)
2c/3a, "wurly" cherub curls, high density, normal elasticity, medium fine hair strands, normal porosity
Low poo: Biotera Color Care shampoo
RO: GVPCB
LI: KCKT
Styling product: KCCC
Sealant: grapeseed oil
PT: Cure Care conditioner
DT: GVPCB mixed with aloe gel
Hates protein and blowdryers (except for my bangs which I blowdry straight *gasp!* :evil5:)
Loves plopping!
Leave a Comment