CurlTalk
It's been a while....I know just checking in!!!
deedles
Posts: 2,466
Registered Users
Hi All!

I know it has been such a long time... I am sorry I just haven't had the time to log in and things have been stressful as of late around here.

Hubby officially graduated with his PhD in June but has been unable to find a job in his field and got the heave ho from the Patent office in Jan so with both of us looking for work and money dwindling down things have been a bit rough. I thought it would be a piece of cake to get work again since I'm an admin but haven't had the luck I thought and even my old job isn't hiring...



Let's see.... Kiddo update Liam turns 5 in August and heads off to Kindergarten (sniff sniff :sad2: ) and Colin turns 18 months on July 13th. We are having Colin evaluated by MD early intervention soon cause We think he has a speech delay I am trying not to think about autism (trying to keep it out of my mind) but it creeps back now and then. He answers when I call his name (mostly) and can follow simple commands and questions so we will see what they say.

I hope everyone is well... thanks to Inheritedcurls for PMing me... I just got those today! :love5:

Deedles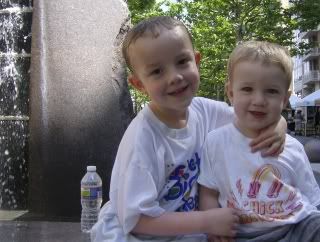 Liam: 6 years old

Colin

:

3

years old

Location:

Williamsburg, Virginia

Member Since:

August 2000
Leave a Comment