for those wanting to go red

Jaqi
Registered Users
Posts: 75
so i haven't dyed my hair in a while, that much so my hair has been it's natural colour for a few years now (great coz from being 15 to 26 it was constantly being dyed). all was great, but if you have not noticed, red is in & it's all over the place. i absolutely love red, whether it's on my darker skinned lovelies to my green eyed, freckled fair skinned girlies, i just adore the colour on everyone. i have been feeling the urge to go back to red myself, however, i'll never forget just how dreadful it is to grow out once the novelty has worn off. i had no idea you could use a red semi until i read it in a post on here, so yesterday i ventured out to harmons pharmacy & picked up L'oreal's healthy look creme gloss semi permanent in the colour cherry truffle (box says it's medium reddish brown).
L'Oreal Healthy Look Creme Gloss Hair Color Cool Chestnut Brown (Iced Chocolate) Ulta.com - Cosmetics, Fragrance, Salon and Beauty Gifts
i left it on longer than 15 mins, i'd say it was a good 30 mins before i realized i had to wash it out. i am not sure if it was due to this or it's just the colour in general, but the end result is a lovely reddish merlot -- i wouldn't consider it to be brown at all. i am surprised it came out a little darker than expected because like i said, my base colour is a light brown, but still, i love it. i am even excited for what it'll look like after a few washes.
i thought i should write a review considering that i have seen a few threads dedicated to dyeing your hair red. i will let update in a few weeks to let you know what the colour has faded too, & i'll try & to get some pics up soon of what it looks like.
Modified CG Lowpoo X1 a week
2B/Med porosity/Med texture
Low Poo:GTTT
Cowash:Vo5 Tea Therapy
RO:AOHRS
DT: Darcy's Botanicals PS
Jessicurl WDT
Shea Moisture RCM
Stylers:Boots Pink/Dr.Bronners Style Creme
L.A Cashmere Curls Gel

I DT once a week (over night), & I do a ACV rince once a month.

:love2: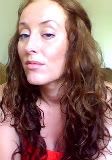 Leave a Comment