Natural = Free-spirited...?

LaCurlyMariposa
Posts: 36
Registered Users
Curl Neophyte
Soooo....I attend Howard University (Bison! :P) and the people I encounter everyday are very business oriented. They're concerned about this internship here or networking there - there's nothing wrong with that, but I do have a problem with people thinking you have to be relaxed to be considered "professional."

I was having a conversation about hair with an old roommate of mine and I asked her about joining me in my transition. She said, "Oh nooooo! I'm going into Public Relations so I have to keep relaxing to stay professional. See, you're going to be a teacher so you can be all free-spirited or whatever." She said something else about looking neat and structured; I started tuning her out at that point. :angry3:

I was offended for two reasons: 1)Being a teacher makes me less professional than you? So teachers don't have to come to school looking "neat" or "professional" because I can avoid the corporate rules? AHAHAHAHA! and 2) Why does natural hair automatically make someone not "professional"?

I have a lot of problems with assumptions people make about teachers in general because 99.9% of these assumptions are false, misinformed, and overall ignorant, and to top it off, throw a "going natural makes you (insert crazy/inappropriate adjective here)" comment in there! I don't have a problem with being called "Free-spirited", I have a problem with assumptions. Sorry for the rant ladies. What do you guys think?

Last Relaxer: Aug 2010
BC: April 2012
Staple Products
:
(Anything Shea Moisture)
African Black Soap Deep Cleansing Shampoo,

Organix Coconut Milk

and

Cherry Blossom conditioners

,

Shea Moisture Curl and Style Milk/ Curl Enhancing Smoothie/ Curling Souffle

.
:blob7:
I
t's fine. It's divine. It's all mine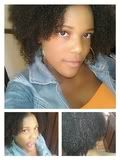 Leave a Comment