We'd like your help getting CurlTalk back on its feet!

By participating on CurlTalk — posting, commenting, liking — in the next few weeks, you will automatically be entered to win amazing prizes.

Our latest winner is Savagegirl!

CurlyCanadian, Bomega and EllaJ have also won wonderful prizes! Will you be next? Post, like, comment, GET ACTIVE and help us get CurlTalk ENERGIZED again!

Learn more!
Team Wash and Go.. or Frequent Washngoers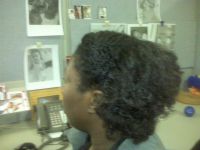 Cerendipity
Posts: 5,091
Registered Users
Curl Novice
Ok so I have some questions, maybe some can shed some light for me
Why does or do some products make the hair clump together like glue? I noticed it happens more with products that have PVP or carbomer in it but recently it happened with FSG
Do you find that a clear leave in works best to avoid the whiteness or does it not matter?
What leave in conditioner works best with your styler? Creamy leave ins or watery?
If you diffuse, how long do you diffuse, or have you ever sat under a dryer before?
Have you ever went straight from conditioning your hair to adding your styler, no leave in?
Can you name some good styler and leave in combinations?
Leave a Comment