Have you cooked anything new lately?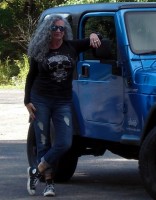 jeepcurlygurl
Registered Users, Curl Ambassador
Posts: 20,729
Curl Virtuoso
I made bacon caramels last week. mmm.

Yesterday I learned to make gyro meat and tzatziki sauce. The grocery store didn't have ground lamb and I didn't feel like hunting around for some so I made mine out of hamburger and ground chicken mixed together. Turned out really well. Add lettuce, tomato, onion on a low carb pita and it makes a yummy fresh healthy meal.

Today I roasted some jicama. I love them raw but thought I'd try to cook one. Cubed it and mixed it up with some onion, olive oil, chili powder, hot pepper powder, mint, salt, pepper. Roasted on a cookie sheet for about 40 minute. Oh so good.

So what have you been experimenting with?
--I'm located in Western PA.   --I found NC in late 2004, CG since February 2005, joined the forums in May 2005, started going grey in late 2005.   --My hair is 3B with some 3A, currently at mid back length when dry,  texture-medium/fine, porosity-top is low, middle is medium, ends are porous, elasticity-normal.   --My long time favorite products are Suave & VO5 conditioners, LA Looks Sport Gel, coconut oil, honey, vinegar.   
--My CG and grey hair progress -  
http://www.naturallycurly.com/curltalk/going-gray/179328-jeepys-grey-hair-progress.html   
--My article at NaturallyCurly about going grey - 
https://www.naturallycurly.com/curlreading/color/how-i-went-completely-gray-and-loved-it
Leave a Comment