Whatever happened to our fellow over 40 girl.....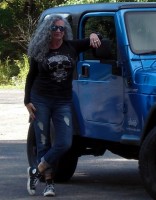 jeepcurlygurl
Registered Users, Curl Ambassador
Posts: 20,731
Curl Virtuoso
...she was from Germany I think and her user name started with P? We talked alot about grey hair and other interesting stuff and then she disappeared. Maybe around the same time that *A* Curly quit NC.
Did I miss something?
--I'm located in Western PA.   --I found NC in late 2004, CG since February 2005, joined the forums in May 2005, started going grey in late 2005.   --My hair is 3B with some 3A, currently at mid back length when dry,  texture-medium/fine, porosity-top is low, middle is medium, ends are porous, elasticity-normal.   --My long time favorite products are Suave & VO5 conditioners, LA Looks Sport Gel, coconut oil, honey, vinegar.   
--My CG and grey hair progress -  
http://www.naturallycurly.com/curltalk/going-gray/179328-jeepys-grey-hair-progress.html   
--My article at NaturallyCurly about going grey - 
https://www.naturallycurly.com/curlreading/color/how-i-went-completely-gray-and-loved-it
Leave a Comment