CurlTalk
My boy had to get stitches yesterday :(
Jess the Mess
Posts: 5,844
Registered Users
Luke, my 7yo, had to get 4 stitches on his nose yesterday. It was an sccident. My nieces were here and the middle one was spinning with a piece of wood in her hand in the yard and let it go. It hit DS on the nose near the eye and gashed him open. I was on the phone and heard SO yell "What happened?" to all the kids and 1 second later heard my son screaming in pain coming through the front door. He was covered in blood. Once I got a wet washcloth on it enough to stop some bleeding I knew it needed stitches and I was worried. Not just because he was hurt but because he is terrified of needles and I didn't know how he'd react. When he got the last of his vaccines 2 years ago we had to hold him down and he was pretty traumatized. I just knew as soon as the doc went at him with a needle Luke would lose it.
We got our roommate to stay with Ivy and our nieces until BIL could get to the house and off we went to the emergency room. I'm so glad roommate was there so Ben could go with me. I'm usually very strong but I had my own traumatic face stitches as a child and didn't know how I'd do alone. Luckily Ben SO grabbed the keys to drive us before I even had to say anything. I felt terrible leaving my niece at the house though. She is also 7 and was just devastated that she had hurt Luke. I gave her big hugs and told her I wasn't mad and I knew it was an accident and I loved her but it still broke my heart. Luckily her dad wasn't far.
Luke was great the whole time. Really brave. The doc talked him through it all and I held his hand so he could squeeze it while SO stood at the end of the bed and rubbed his legs. He freaked out once when the doc started to numb the area but we were able to very quickly calm him down. Had one more bad moment during the last stitch but not a freak out by any means. I was so proud of my little guy. As soon as he was done he was up, happy, ready to go. We even still went beach camping for the night like we had previously planned. He was a trooper.
Man it's hard to see you kids hurt like that. Ugh. I know it certainly wont be the last time but my heart hurt for him. And I got to see my little boy grow up just a little. He was brave, strong, a real "big boy". SO and I were so proud of him.
He couldn't wait to come home and show his friends his stitches by the way. 4 little frankenstein stitches. I'd post a pic but I don't wanna freak anyone out. This one is safe though. Here he is relaxing in the tent after his big day.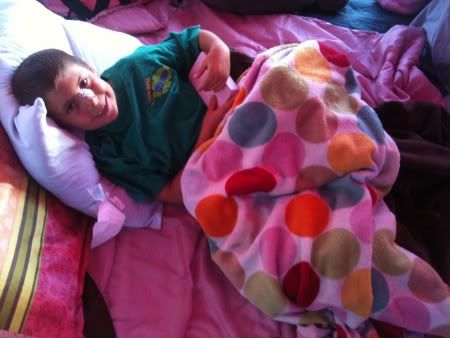 Anyone else have stitches/broken bone stories?
High Priestess JessMess, follower of the Goddess of the Coiling Way and Confiscator of Concoctions in the Order of the Curly Crusaders
Leave a Comment