CurlTalk
UPDATED need 2 get rid of asap!!12/13 Lower$
tigerlily8580
Posts: 13
Registered Users
I am definetely a PJ . To make matters worse lol i work in the beauty industry . I am a nail technician ,so there are all kinds of products on her from hair , fragrance and nails . You can get alot of steals here. I will combine shipping . I will ship low cost depending on your purchase . I am set up to accept paypal . I thought of selling these on e bay but i didnt want to deal with the incertion fee. the reason I have so much of my nail stuff for sale is because I use to have to buy my own products to use and now I dont.If you have any questions let me know . The nail products you may not be familiar with but they are top quality professional products . Im practically giving alot of this away for the prices But i would rather do this than throw them out .
HAIR :
1.AVEDA brilliant universal styling creme only 50 % gone & .5 oz AVEDA smoothing fluid 3/4 full- 3.00 + shipping
2.Sunsilk Hydra TLC 24/7 creme full used once - 1.00 + shipping
3.Paul Mitchell Instant Moisture Daily Shampoo 3.4oz full 1.00+ship
4.Garnier Fructis fortifying 2n1 poo+condish 3.4oz New full 1.00 +ship
5.HE hello hydration poo 1.7 oz new full .50+ship
6.John frieda Frizz ease RELAX straight forward . 3.5 oz 1/2 full 1.00+ship
7.AVEDA phomollient styling foam 6.7 oz 1/2 full 3.00+ship
10.Redken smooth down poo new 1.7 oz 1.00+ship
FRAGRANCE AND BODY:
1.Escada Rockin Rio .14 fl oz mini bottle 1/4 full 1.00 + shipping
3.AVEDA 1.7oz blue oil over half full 4.00+ ship
4. meet mark 8 oz hollywood pink lotion full & a box of 6 heart shaped hollywood pink soaps all new . $5.00 + ship
5.meet mark new spots away belmish neutralizer 3.00 + ship
6.meet mark hookups 2 new glow babies lip glosses-foxy and player 3.00+ship
7.meet mark hookups new on the edge eye liner -cleo and glow baby gloss-player $3.00+ship
8 . 2 meet mark polishes in snow angelica-white NEW 2.00 or 1.00 ea + ship
9. meet mark NEW c lick here stress absorbing eye gel new 5.00+ ship
10. meet mark NEW self sanctuary -body mist kiwi lotus 3.00 +ship
11. meet mark NEW self sanctuary - body mist grapefruit ginger 3.00+ ship
12. meet mark NEW decongesting scrub mask 2.00+ ship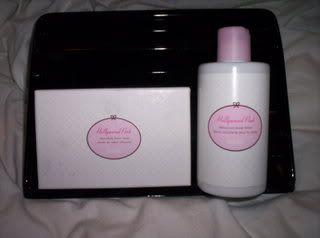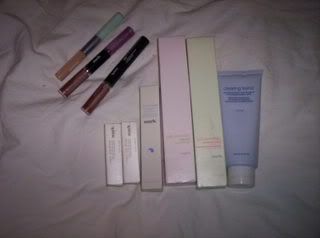 NAILS:
1.EZ flow nail strenghthener full bottle 1.00 + shipping
2.Creative spa pedicure marine mask 3/4 full,sea salt glow scrub 3/4 full ,foaming sea soak 3/4 full . selling as a full pedicure set. 5.00+ship
3.Creative spa manicure exfoliating crystals -full used once,crystal activator- full,finishing lotion 3/4 full. full set for manicures 5.00+shipping
4.OPI - pedicure soak 1/2 full 2.00+ship
5.OPI - pedicure crystal soak full 5.00+ship
6.OPI avoplex exfoliating cuticle treatment 1 oz 1/2 used 1.00+ship
7.Creative a.h.a. cuticle eraser 1/2 used 1.00 +ship
LOL EXCUSE THE PEPSI BOTTLE IN THE BACKGROUND.....
NAIL POLISHES all either new or 3/4 full
ZOYA 1.00 EA+ SHIP
ZOYA-tasha
ZOYA- vegas freeze
ZOYA-clover
CREATIVE 1.OO EA+SHIP
Creative-love sick
Creative-romance
OPI 2.00 EA + SHIP ALL NEW
OPI-cant help falling in love
OPI - sand castle minis set 2.00 + ship
all pictures are in order with the products they go with
this is only the first set i have to sell . there is plenty more lol.
THANKS FOR LOOKING
PAIGE
co wash= jessicurl too shea (love it)
condish= regis olive oil mask
styling=aussie tizz no frizz
spray= distilled water w/lavender & 2-3 drops jojoba oil
Im a 3b but I do tend to wear my hair straight alot. my hair soaks in everything!!!!
Leave a Comment