CurlTalk
Porous canopy, normal underlayers?
CurlyMamaOf1
Posts: 17
Registered Users
Hi ladies,
I've went back CG after about 8 years of DAILY blow dryer and bristle brush straightening (yikes) on my fine, porous 3a/2b hair.
I'm pouring over all of these old topics about porous hair and trying to figure out my problem and I have a few questions.
The canopy of my head, or all hair coming out of the very top 4" diameter of my scalp, is crunchy dry and super porous. The underlayers seem to be a normal porosity. However, the canopy of my hair is what received the most damage during straightening and often received the most heat.
1) Can heat/product damage make only a certain section of your hair extremely porous? (in my case, the canopy)
2) Anyone have similar problems and what did you do during the transition?
I know its going to take about a year and a half to grow a new canopy.
Currently I am:
Washing - once weekly with Giovanni 50/50, watered down.
Co-wash - Giovanni tea tree conditioner
Once weekly use Olive Oil conditioner from Sally's. Its heavy so I try to keep it to the canopy only.
Styling: Gelebration spray from Jessicurl followed by Confident Coils. Verdict is still out on these. I'm a curly product virgin so I'm trying to find people with similar hair types that can help me out with some product and routine suggestions.
Would an ACVR help the canopy porosity issue?
I wanted to add I'm having a terrible problem with a greasy and stringy appearance. It seems my washes are having to come closer and closer together nowadays.
Thanks so much! This is frustrating but I know will be worth it once I nail down products and routine. Here are some pics, hope I do this right! ;-)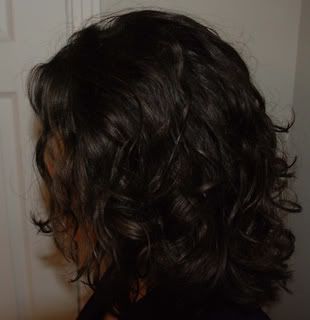 *2b/3a*
* Porous*
*fine texture*
*normal elasticity*

Current:
Wash: Cheeky Maiden Shampoo Bars
followed by ACV rinse
DT: Giovanni R66, JCWDT
Styling: AOMM, FSG, BRHG
Co-washing is NOT for me. Weighs my hair down too much. 1-2x weekly protein treatments work much better.

CG as of January 2010
I'm a simple girl! Not a PJ!
Leave a Comment